10 good reasons to buy a campervan
Friday 20 March 2020
Are you looking for a suitable camper for your next camping trip? Why not consider buying a campervan? The converted van is more compact and therefore more discreet and flexible, but at the same time offers as much comfort as a classic camper. We have listed all the advantages of this type of camper below!
1/ Compact and discreet
With a length of 4,78m up to 6,36m and a width of about 2m, the campervan is much more compact than a camper. You can easily park it anywhere, which means you can camp wherever you want. The height varies between models. On top of that: all vans lower than 2m can easily enter an underground parking lot.
Due to these dimensions, campervans aren't as noticeable and less recognisable than motorhomes. They blend in easily with their surroundings. For owners who attach importance to anonymity and discretion, this can be an important reason to buy a motorhome. Finally, it also makes such a van an ideal candidate as a second car, as it is perfect for your daily commute.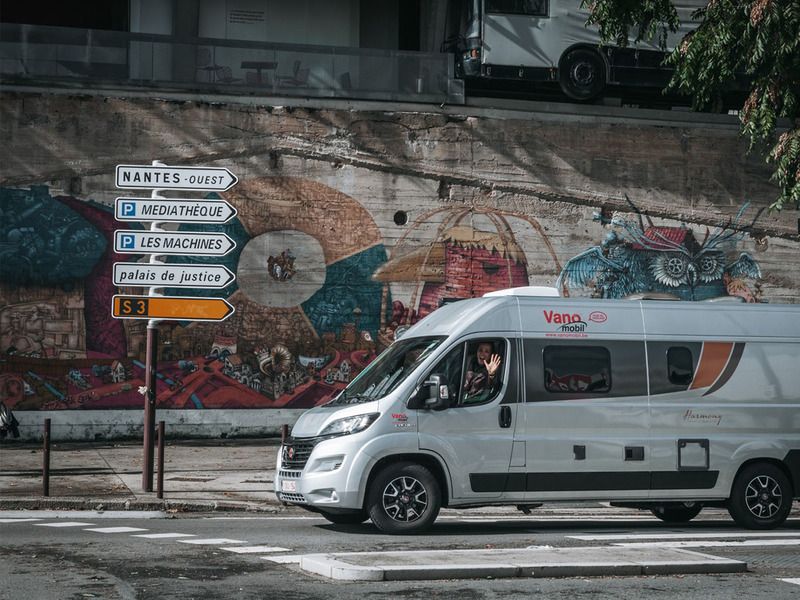 2/ Buying a campervan is cheaper
The growing interest of some major brands in campervans, such as Bürstner or Chausson, offers interested buyers many advantages in terms of price. A motorhome really puts it within reach of everyone. For example, you can buy one for as little as €40,000, while a fully equipped motorhome costs at least €50.000. Of course, the exact price of a motorhome also depends on the model. Some people are more than happy with an entry level model, others would prefer a more equipped camper.
3/ Optimal habitability
Moreover, by buying a campervan, you don't have to sacrifice comfort. On the contrary, although the living space is slightly smaller due to the original bodywork of the van, it still meets all expectations. Also, you'll find exactly the same equipment and technologies in campervans as in other motorhomes. This ranges from solar panels to flat screen and satellite.
The functional, clever layout also ensures that the available space is used optimally. For example, the bed can often be folded down completely or partially. The same goes for the sliding or removable benches in the sitting area or even the sink in the toilet. The kitchen is compact, as in classic motorhomes, but also functional and equipped with the best equipment. Nowadays, even a fridge fits on board without any problems!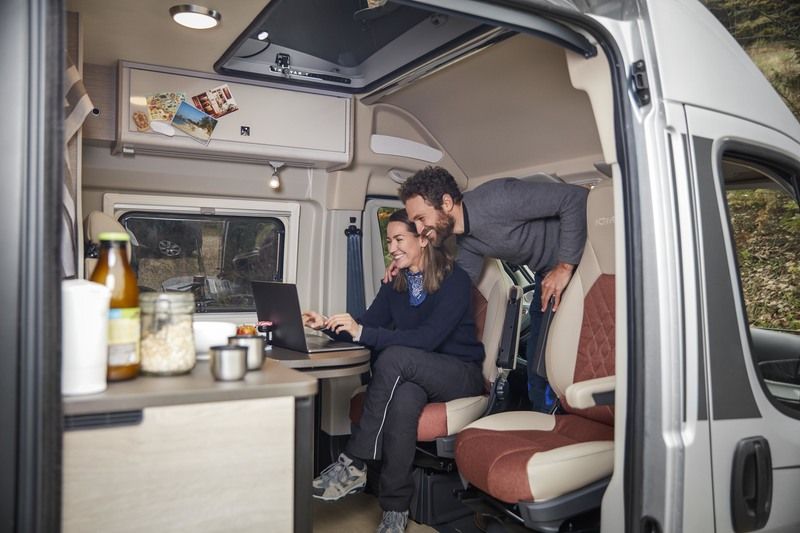 4/ According to your own taste
When buying a campervan, a lot of attention is paid to the aesthetic aspect. The various brands are focusing increasingly on a personalised finish. This ranges from the bodywork to the upholstery, atmosphere and decoration. For example, you can now order vans in ten different exterior colours, a luxury motorhomes don't offer.
5/ Contact with the outdoors
The possibility to open the doors wide, either with hinges or sliding doors, has several advantages. The sliding doors allow you to ventilate the motorhome optimally. At the same time, you can enjoy the surroundings more. You enjoy a wonderful outdoor feeling while cooking. Despite all the luxury, the camping feeling is always maintained.
6/ Good driving experience
The fact that a campervan is built out of a van has several advantages in terms of performance and driving experience. For example, the campervan actually drives like a car, while sitting higher, which gives you a good overview of the traffic and views. Some models therefore have the same characteristics on the road as a modern volume car or SUV. Other heavier models go more to a company car.
Just like a classic van, you can go anywhere with the camper van. Even on the smallest roads or in the mountains, you don't have to worry. The same goes for parking, of course, which is much easier with a campervan than a motorhome.
7/ For more than holidays
Although camper vans are mainly designed for holidays and relaxation, some converted vans have the added advantage that they can also be used as a replacement for a car in everyday life.
Commuting, taking children to school, shopping: many people who buy a motorhome can eventually do without an extra car. This is how the campervan proves its versatility: use it for practical things during the week, go out on adventures during the weekends!
8/ Large load capacity
With a campervan you never have to worry about the weight. A campervan has a higher load capacity than you might think: between 500 and 600kg, depending on the model and version.
9/ Not to forget
Campervans are of course equipped with air conditioning and driving aids such as rear view sensors, cruise control or electric mirrors. Everything is also provided in terms of safety: there are double airbags, ESP in combination with ABS...
10/ Wide choice
Interested in buying a campervan? Then you will soon be impressed by the extensive range on offer. From the largest to the smallest models: there is something for everyone. Every year, new players join the ranks, while established brands continue to expand and customise their range.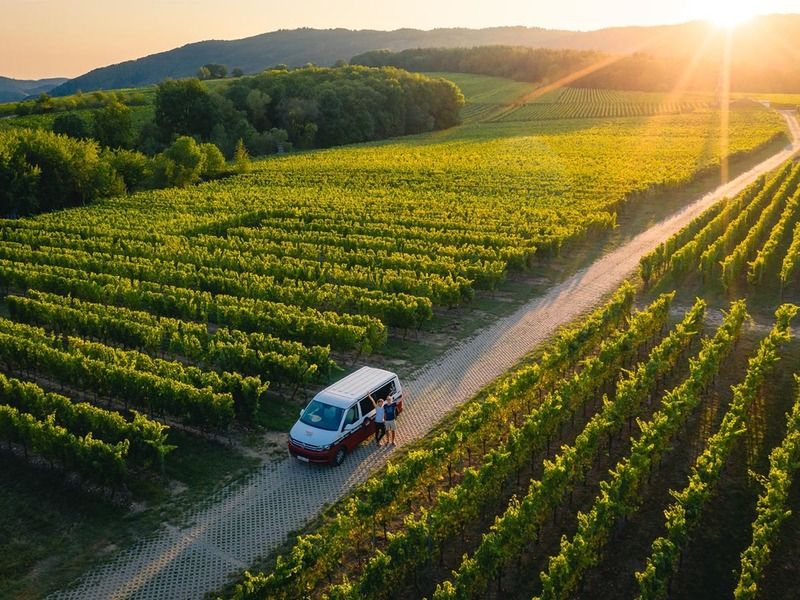 Did we get you excited about a camping trip with a campervan? Then feel free to take a look at our offer online or visit our showroom. We have the largest selection of campervans in Belgium. Moreover, we represent the three inventors of the campervan on the Belgian market: Adria, Knaus and Westfalia.
In order to offer you a custom made solution, we always guide you in the choice of your campervan. This way you can enjoy your new purchase to the fullest!